Bad blogger award goes to yours truly. I'm fully expecting the tomatoes coming my way.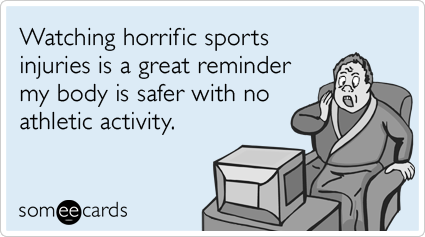 After a month of recovery from my injury I'm thrilled to share that I attempted my first run yesterday morning. It wasn't a ground-breaking distance or pace, quite the opposite actually.
I hopped on the treadmill and walked about a half of a mile and jogged at 5mph for a mile. I didn't have any pain just a little muscle cramping in my calf of the injured leg. My physical therapist said that's normal and encouraged me to continue doing this as many times a week as I'd like and slowly increase distance. Of course a happy dance was completed once out of sight of the physical therapist.
Needless to say treatment has been going well and I feel almost 100%. I know I still have a way to go before I'm back to my old self but I have no complaints.
It's been tough to write posts the past few weeks because I've been disappointed in not being able to do some working out (or anything to strenuous in general). I miss my Team in Training team, running, lifting weights, etc. I'll fully admit I even missed the dreadmill. Pretty sure you never expected to hear me say that?
I know I needed to take it easy and it was insanely difficult for someone like me. I'm always on the go and taking double (if not triple) the time to do most things was beyond frustrating. While it was frustrating I can't argue with the results.
I put my stubbornness and rebellious nature on hold for the better part of a month, which was difficult. I tried to do the following each day in order to promote the best recovery results and maintain a healthy lifestyle.
How to Maintain Health While Injured
Do everything your doctor tells you. I know this might seem like a no brainer but many people ignore or put off the advice doctors give them. You can complain about
Hydrate. Drink water all day, everyday. Hydration is important in general and I made sure to continue to drink water as much as possible. Hobbling down the street on crutches in the heat dehydrated was not my idea of fun so I did my best to avoid it.
Watch portions. I get hungry when I workout, especially during training for a race. I wasn't working out so I needed to modify my portions. I didn't make any huge changes to my diet just scaled back a bit on how much I ate.
Try to get exercise in other forms. For my my injury was my knee which made doing many every day exercises difficult. However I tried to lift some arm workouts and walk laps around the house as much as possible. My physical therapist gave me the green light on this so always check first.
Get plenty of sleep. Your body is recovering from injury and sleep is as important as ever. Try to get your full eight hours of sleep. I wish I could say I got this each night but the first nights it was difficult to sleep comfortably. Find what helps you sleep. For the first week sitting partially up on the couch was the only way I could sleep.
Stretch and ice. These two things were key for me. I tried to stand at least for 5 minutes at least once an hour to stretch. I also iced my knee at least twice a day to help keep swelling down.
When in Doubt – Ask! There were times I was concerned I might be pushing myself too hard or something felt off. I ALWAYS asked my Physical Therapist or doctor. I have no medical degree and let's face it google is a terrible place to search for anything medical related. If I learned anything it's that your medical team know what they are doing. Listen to them and seek their advice.
While injured I've focused a lot on small wedding tasks and tying up a lot of loose ends. Can you believe it's in 4 months! I know I can't. Not going to lie that I totally tried on the dress last night just to be sure it fit. A month with minimal movement had me freaked out a bit. Luckily it still fit so I can breath a little sigh of relief.